South Korea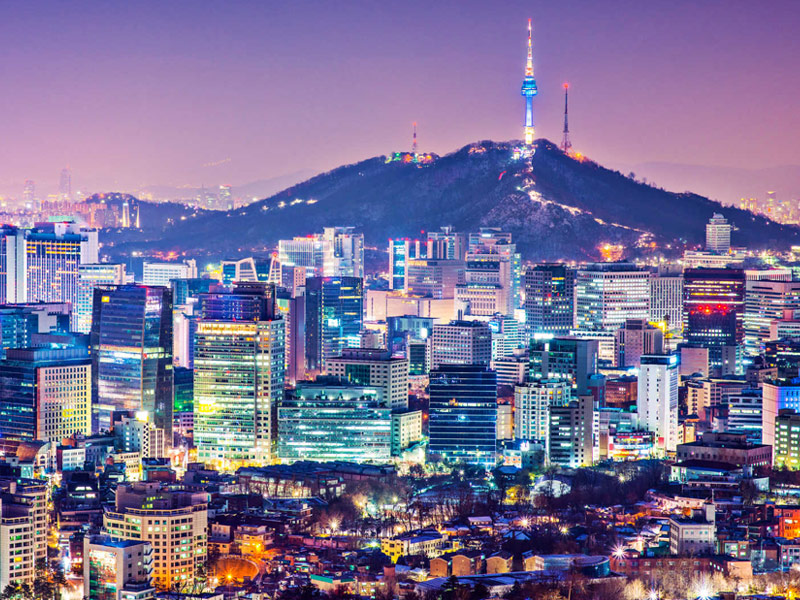 Fast fact about South Korea
 Border
:  241 Km
 Coastline
:  2,413 Km
 Territorial Waters
:  12 a nautical mile (economic water 200 a nautical mile)
 Population
:  approximately 48 million (as of 2004)
 Capital
:  Seoul
 Official Language
:  Korean
 Political System
:  Democratic republic
 Religion
:  Buddhism -23.3%, Christianity-19.7%, Roman Catholicism -6.6%,

Confucianism 0.5%,  Won Buddhism -0.2 %, Cheon-do-gyo religion 0.1%

 Government
:  Presidential system
 UN member
:  Since 1991. 09. 17
 Currency
:  Won
  G N I per capita
:  $20,045 USD (2007year)
Benefits of Studying in Korea
Education Competitiveness:
According to '2011 National Competitiveness Report' of IMD in Swiss, the education competitiveness of Korea was 29th among 59 countries that were subjects of the survey. Korea is 4th in Asia following Singapore, Taiwan, and Hong Kong, and higher than Japan and China. Also, in international comparison research of the academic achievements(PISA) by OECD, Korea took 3rd ~ 6th place in the recent years among 65 countries that were subjects of the survey. Especially, Korea was the first place in digital reading knowledge assessment. Based on such education competitiveness, Korea will be able to offer a higher level of education services to the students coming from abroad
Advanced Country with Applied Science and State-of-the-art Technology
Korea was the first place among 152 countries that were subjects of the survey in ICT development index announced by International Telecommunication Union(ITU). The IT field of Korea is famous for its highest level in the world along with machinery, chemical, ship building and automobiles. Ultra high speed internet network supply is over 20 million households, and most of the families are using it. Considering that Korea is a strong IT country in the world, you can conclude that the technology and tradition of Koreans are suitable for new high-tech and creative fields. Studying in Korea with the most dynamic technological power in the world will provide you the basis for success in the future.
Rich Culture & Dynamic Life
As a country that kept old tradition and culture, Korea has preserved many cultural heritage and traditions. Various tangible and intangible culture made by thousands of years pervade in every corner of the society and continued until now. Korean-wave started from Korean dramas is extended to affection for Korean culture and love for Korean language, and the recent popularity of K-Pop shows that Korean-wave is taking a place as not only the culture of Korea but also as the culture of people all around the world that can be shared by everyone in the world. The study in Korea where long tradition and dynamic modern culture are developed with harmony is very attractive, and if you receive education and study in this environment, you will be able to develop the leadership and deep insight necessary as a leader to lead the human civilization in the future.
Low Tuition & Living Cost
Compared to English speaking countries such as U.S, Canada, and Britain, Korea has relatively lower cost of study including tuition and living cost. Korea does not impose additional fee for foreign students, and there are many scholarship programs for foreign students, so you can study without a big economic burden. Especially, as Korean government recently announced substantial support and deregulation for foreign students in scholarship, dormitory, part time jobs, and employment after graduation, the study in Korea became more convenient and possible with less cost. Geopolitically, Korea is located in Northeast Asia, and for Asian territories, it is very close, so it is easy to visit Korea with low cost, and culturally, as the same Eastern cultural region, students may adapt without much trouble emotionally and culturally during their study.
Support for samples
We are holding Employment Exhibition every year for foreign students to help employment in Korea, and through foreign students' employment support homepage (www.goldcard.or.kr), employment information are provided to foreign students. Especially, with gold card system for graduates of advanced technology field and science card system for high class science and technology manpower, we are helping the employment and visa issuance of the foreign students.
For foreign students attending undergraduate or master/doctorate course in Korean universities, or language school students of 6 months after entrance to Korea, they can legally have part time jobs after receiving activity permit outside resident qualification. Part time job information can be acquired through school employment centers and regional newspapers.
Education System
Korean Education System:
School System
– Education system : a single-track 6-3-3-4 system
– Compulsory education : nine years including six years of elementary school and three years of middle school
– School semesters : the first semester-from March to August, the second semester-from September to February
– Vacation : the summer vacation-July to August, the winter vacation-December to February
Higher Education in Korea
Korea's higher education institutions include universities, industrial universities, junior colleges, universities of education, open universities, technological universities, and other miscellaneous institutions. Korean universities are divided according to the body that established them, ie. into national universities established and run by the Korean Government, public universities established and run by local governments, and private universities established and run by incorporated educational institutions. Regarding the selection of students at universities, the Korean Government only stipulates the minimum basic requirements in order to extend the scope of university autonomy. By allowing the admission department of each university to autonomously set all screening documents and standards such as the national academic aptitude test, essay examinations, qualifications, recommendation letters, etc., the authority to select students of universities has been expanded. As of April 1, 2010, there are 411 universities in Korea. These include 179 universities proper, 145 junior colleges, 40 graduate schools, 20 cyber universities, 11 industrial universities, 10 universities of education, and 6 others.
Universities
The purpose of university education to research profound academic theory and wide ranging and detailed application methodology necessary for the development of the nation and human society, and to cultivate leadership. The length of the courses are 4~6 years. Medicine, oriental medicine and dentistry each require 6 years of study. There are degree courses in thirty different majors including literature, law, theology, political science, economics, business administration, public administration, pedagogy, library science, science, engineering, dentistry, oriental medicine, pharmacy, nursing, agriculture, veterinary medicine, fishery science, fine arts, music, etc. The total number of credits required for graduation generally is 140 credits. Undergraduate degrees are conferred on those who have completed the course as set out in the school regulations.
Junior Colleges
Junior colleges are organized in terms of various majors such as Humanities and Social Sciences, Natural Sciences, Engineering, Performing Arts and Physical Education, Health, etc., and have a minimum course length of two or three years. 2 year junior college requires 80 credits for graduation and 3 year junior college requires 120 credits. A diploma from the junior college is conferred on those who have completed the course as set out in the school regulations. Those who have graduated from junior colleges may enroll in universities, industrial universities or open universities.
Graduate Schools
Graduate schools are designed to pursue the objectives of higher education more profoundly, while cultivating both the ability to guide academic research and creative talent. These are divided into generalist graduate schools centered on academic research and specialist graduate schools which are practice-orientated.
Master's Course
The required course of study for a Master is two years or more. Usually, students are required to obtain 24 credits. After gaining the prescribed credits and passing the set examination, candidates for a Master degree submit a Master thesis which must pass the examination of at least three examiners.
Ph. D Course
The required course of study for a Ph. D is three years or more. Usually, students are required to obtain 36 credits. After gaining the prescribed credits and passing the comprehensive examination, candidates for a Ph. D submit a Ph. D thesis which must pass the examination of at least five examiners.
Post-Doc Course
These courses are for continuing research after completion of a Ph. D course. Presently, many Korean universities are inviting post-doc researchers to work on research projects for the BK21 program.
Visa Information
Required Documents for Study Visa:
Documents required for Student Visa / D-2
– Invitation & Certificate of Personal reference (legal office in Korea must notarize all related documents)
– Standard Admission Letter from the Chief dean of the University/College: it must include verification statement about financial aid and scholarship)
– Certificate for scholarship and/or a financial statement on any extra expenses required for studying and living
– Copy of Certificate for Business registration of University
– Certificate of the scholastic achievement
– Transcript of the scholastic achievement throughout all semesters
– If the visa applicant will pay all necessary expenses, certificate of employment of oneself or his/her parents must be submitted
– If the visa applicant will pay all necessary expenses, one must submit bank statement (last 1 year) of oneself or his/her parents
– Every document must be in its original (signature and official seal are required: finger stamp and signature made on the computer will not be accepted)
– Every document must be in its original: you can not send any document through FAX or Scanning
– Nepali documents must be translated into English and notarized.
– Any documents in Nepali must be translated into English and notarized legally.
– The status of the visa process cannot be revealed to anyone except the applicant.
Note: The student must present other documents as required by Consular Section/List of required documents may different as per the country of origin of Applicant.
Korea Application Process
ADMISSION AND ENROLLMENT PROCESS
Requirements (Application Preparation Stage)
-Course and University Selection. (Asper your qualification, Profile, Further Study Plan) at Counseling.
-Min. +2 having 50% of Mark and not more than 3 years of Study Gap.
-Academic Certificate Notarized.
-2 Letter of Recommendations letter from College( including English Teacher)
-Motivation Letter(Self introduction and Study Plan in Korea/Clear Vision for Study)
-Passport Copy
-IELTLS Min. 5.5 if you want to study in English Medium.
-Financial Capacity min. 10,000(Ten Thousand Dollar) from Sponsor
-Source of Income of Sponsor
-Sponsor/Affidavit of Support(Optional)
-150 us$ Application fee (Not refundable One time)
-Our Deposit is 10000 (Not refundable)
You will get acceptance letter in 3-7 working days. After receiving acceptance letter,Prepare to make the Draft of Following Amount. We will take the addition30000 (Nrs. Thirty Thousands) as deposit, if you get refused we will refund the Thirty Thousands within 7 Working Days.
Housing fee 800$
Language fee 3000$-5000&/Year
Insurance Fees: 150$ / year
After Draft, Final Confirmation of Enrollment will be received from Courier. Then Prepare for (Visa Application) Immigration preparation Stage.
Prepare all above Financial Documents.
Visa application forms
2 pp size Photo
Passport and Copy of Passport
Visa fee 7200 Nrs. Deposit at Nabil Bank Ltd. Kanti path at 0101012205410
Submit the Receipt of Deposit along with Visa application.
Applicant must submit their documents themselves.
After application lodgment Embassy will schedule the Interview time and day via phone.
Get Visa Decision.
If you get visa (Immigration Stage)
· Airport Information/ Customs information
· Airport pick up Service
Post Immigration Stage:
· Arrive at University, Entry procedure, Orientation service, Make i.d. Card, Campus Tour, Class Enrollment
Work Permit Information:
· Regular student will get Work permit after 6 months, (Recommendation of Int'l Professor and Advisor)
· 20H/Week is allowed. For Language and UG. Students.
· 30H/Week is for Master and PH.D.
· Full time During Vacation.
We will provide you basic knowledge to get part time job and even we can help to find out it from our Korea Representative if possible. (But work is not guarantee from our side, its always the self responsibility of students.)