United South America [USA]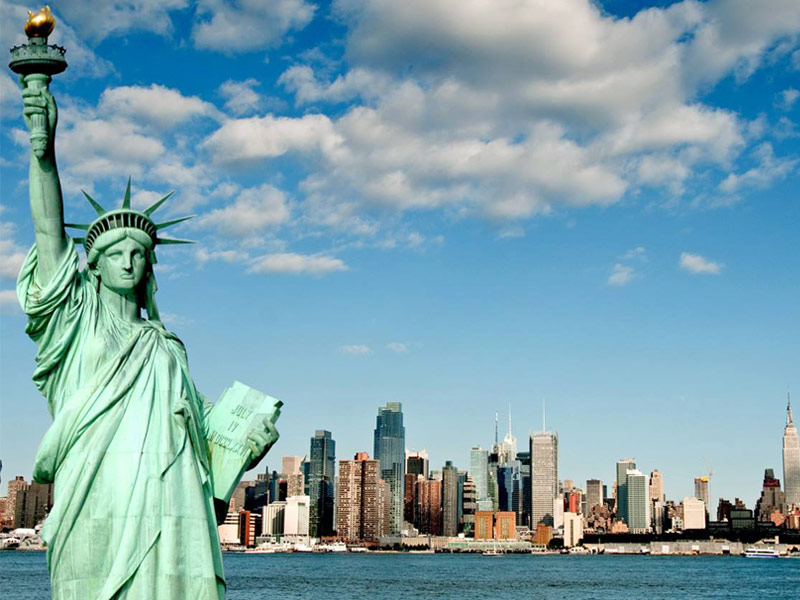 Why USA?
The land of dreams and opportunities, the U.S. offers high-quality educational options for students from around the globe. Be it for the quality of education or the career prospects after graduation, the U.S. has monopolized the attention of most all study abroad aspirants. Let's take a closer look at the world's most preferred country for higher education.
Top 10 Reasons to study in the United States
U.S. colleges and universities are attractive to international students for many reasons. The surveys say that almost 600,000 international students are currently pursuing their higher education degrees in the U.S. Following are the top ten reasons why Nepalese students choose U.S. colleges and universities:
1. Excellent Academics
It is believed that world's finest higher education is available in the U.S.,especially in the field of technology. U.S. degrees are accepted across the world and are considered to be among the most prestigious.
2. High Quality Research
If research is your passion, the U.S. is the right choice. There are numerous research opportunities in every field that allow students to gain practical experience during their studies. In addition, due to funding from the U.S.government and public and private corporations, students who work as research assistants often receive a waiver of tuition fees and are provided with as tip end to help with their living expenses.
3. Flexibility in Course Curriculum Offerings
In addition to their major field of study and courses, students often have the option to take courses (called "electives") in other subject areas, based on their interests. In addition, the selection of course offerings at most colleges and universities is very large and diverse. Sometimes students may even be able to "cross-register" or take courses at other nearby universities as part of their degree program.
4. Financial Assistance
In some situations, financial assistance is provided to international students.Most of the universities financially support international students either in the form of providing teaching or research assistantships. These assistant ships are based on academic merit, rather than financial need. Awarded students will receive stipends, and/or either partial or full tuition waivers. In some cases,a student's education could turn out to be completely free if the student exhibits exceptional skills in his or her field of study. Students also have the opportunity to receive grants, loans, and scholarships from various organizations
5. On-Campus Work Opportunities
Most colleges and universities allow international students to work on their campus as part-time employees. Students who are on F-1 student visas can work on-campus up to 20 hours a week during the academic year, and up to 40 hours a week in the summer or vacation periods. The students are usually paid an hourly rate (usually from US$ 8.00-US$15.00 an hour), and their earnings help to cover their living expenses. Students are placed in jobs based on their financial need and personal skills and experience. For example, an English major may be placed at the university library, while someone who has a lifeguard certification may be placed at the campus Aquatic Center.
6. Internships
Students are allowed to work as interns in their respective academic fields outside of the campus during summer vacation. There are internship programs during the academic year as well. Internships are a valuable part of education as they help students gain practical experience while taking classes. Most universities also offer academic credit for internship experience.
7. Job Opportunities /Professional Training
Once students complete their degrees, they are authorized to work full-time for one year in a related field in order to gain practical experience. (As of 2008,students in certain fields can extend this to 17 months.) This program is called the Optional Practical Training (OPT) program. Many talented students are hired as a permanent employee after they complete their OPT period by securing sponsorship from their employers for an H-1 visa. The H-1B visa is a temporary work permit for foreign nationals to work in specialty occupations like Software, Engineering, Teaching, Accounting, or Marketing. Students may continue their work without leaving the U.S. after the status change approval.
8. International Student Affairs Offices
Most all U.S. colleges and universities have an international student affairs office with advisors who provide extraordinary support to international students to help them navigate the sometimes confusing university and immigration bureaucracy and to get the most out of their educational experience. In addition to immigration and academic advising, these offices also often host events and workshops to help international students meet other students and get involved in campus life.
9. Cultural Exchange
Apart from what is taught in the classroom, international students also get to interact with and learn from other students from many different countries and diverse religions, cultures, economic and ethnic backgrounds. This experience can be eye-opening for many international students and helps them to be come true global citizens.
10. Value
The success of any student will be directly proportional to the amount of dedication and hard work he or she exercises. Undoubtedly, the U.S. offers a veryhigh quality of education. The variety of skills and cross-cultural environment can make the learning experience in U.S. universities a rich and unique one.With such diverse academic and cultural backgrounds, international students are better prepared for working with absolute ease anywhere in the world.
US Education System
The American education system offers the most diverse set of education options in the world. In fact, an international student who elects to take advantage of the American education system can pursue anything from nuclear science to film and dance. American education possibilities are almost endless!
Type of Institutions
There is no central ministry of education in the U.S. and each institution can determine its own programs and admission standards. There are private as well as state funded colleges.
University
They are academic institutions that include one or more undergraduate colleges, as well as any number of graduate and professional schools, i.e. schools offering study for a single profession such as law.
Four year colleges
They are undergraduate institutions offering academic programs leading to a bachelor's degree.
Short Fact USA
USA
The land of dreams and opportunities, the U.S. offers high-quality educational options for students from around the globe. Be it for the quality of education or the sample prospects after graduation, the U.S. has monopolized the attention of most all study abroad aspirants. Let's take a closer look at the world's most preferred country for higher education.
Nearly 600,000students from all over the world studied in the United States last year at both the undergraduate and graduate levels. It goes without saying that America offers very high quality post-secondary education. There are more than 4,000public and private colleges, universities, and community colleges in the United States, including over 600 public four-year colleges and universities and over1,650 private four-year colleges and universities. These traditional institutions enroll nearly 15 million students. In addition, over 6,000non-collegiate post-secondary institutions offer specialized vocational and technical training.
Political System
The United States is the longest-surviving constitutional republic with the oldest written constitution in the world. Its government operates as a representative democracy through a congressional system under a set of powers specified by its Constitution. There are three levels of government: federal, state, and local.Officials at all three levels are either elected by voters in a secret ballot or appointed by other elected officials.
Technology
The United States is an influential country in scientific and technological research and the production of innovative technological products. During World War II, the U.S. was the first to develop the atomic bomb, ushering in the atomic age. During the beginning of the Cold War, the U.S. began successes in space science and technology, leading to a space race, which led to rapid advances in rocketry, weaponry, material science, computers, and many other areas, culminating in the first visit of a man to the moon, when Neil Armstrong stepped off of Apollo 11 in July 1969.
In the sciences, the United States has a large share of Nobel Prizes, especially in the fields of physiology and medicine. The National Institutes of Health, a focal point for biomedical research in the United States, has contributed to the completion of the Human Genome Project. The main governmental organization for aviation and space research is the National Aeronautics and Space Administration. Major corporations, such as Boeing and Lockheed Martin, also play an important role.
Economy
The U.S. has the largest and most technologically powerful economy in the world, with a per capita GDP of $46,000 (2007). In this market-oriented economy, private individuals and business firms make most of the decisions, and the federal and state governments buy needed goods and services predominantly in the private marketplace. U.S. business firms enjoy greater flexibility than their counterparts in Western Europe and Japan in decisions to expand capital plant, to lay off surplus workers, and to develop new products. At the same time, they face higher barriers to enter their rivals' home markets than foreign firms face entering U.S. markets. The merchandise trade deficit reach eda record $847 billion in 2007. Long-term problems include inadequate investment in economic infrastructure, rapidly rising medical and pension costs of anaging population, sizable trade and budget deficits, and stagnation of family income in the lower economic groups. Together, these problems caused a mark ed reduction in the value and status of the dollar worldwide in 2007.
Health
The U.S. spends more on health care per capita than any other nation in the world. Yet, according to the Institute of Medicine of the National Academy of Sciences, the U.S. is the only wealthy, industrialized nation that does not have a universal health care system. United States health care is provided by a diverse array of individuals and legal entities. Individuals are offer edin patient and outpatient services by commercial, charitable, or government alentities. The health care system is not fully publicly funded but contains amix of public and private funding. A new poll released by the American Cancer Society and Trust for America's Health (TFAH) found that Americans ranked the flu epidemic, cancer and obesity as their leading health concerns. Life expectancy is relatively high (78 years) and infant mortality is high.
Society and Culture There are many stories, positive and negative, about American people and many have preconceived ideas from films and television programs that they have seen.It's extremely difficult to categorize and describe 'American culture'.American society is extremely diverse and complex and should not be reduced tostereo types. Important differences exist between geographical regions, between rural and urban areas, and between social classes. In addition, the presence of millions of immigrants who came to the United States from all corners of the world with their own culture and values adds even more variety and flavor to American life.
US Aplication Process
STEP 1
Arrangement of Admission/ I-20
Admission/I-20
1. Pay application fee (As per College/Uni Rules)
2. Relevant Academic documents Copies (Certify from Full Bright)
3. Test Score for all level admission
4. Passport Copy (Certify)
5. Financial Proof (Bank Balance/ Statement)
6. SAT for Undergraduate admission
7. GRE, GMAT admission for Master degree
8. Fill up University/College Application form (Online/Printed)
9. Statement of Purpose
10. Letter of Recommondation
11. Make complete file and, and Send by Courier.
I-20 Issuance time 3 to 7 weeks weeks (Depends on University)
Step 2
Prepare Documents for Visa Apply
Prepare Documents for Visa Application

1. Submit the Original admission Letter/ I-20
2. Submit all Documents As above Sheet 1
3. Make Property Valuation Certificates
4. Letter of Sponsor.
5. Relationship With Sponsor
6. Income Sources of Sponsor
7. Sufficient Financial Proof (Bank Balance)
8. Health Report
9. Police Report
10 extracurricular activities Certificates
11. Chartered Accountant's Report
12. Fill the Visa form
13. Pay SEVIS fee at Nabil Bank Maharajgung Branch
14. Face the interview with all the documents & SEVIS Receipt
Get Result
Best of Luck
Fore Further Professional and Comprehensive advice. Please contact our team.